The members of the Voorheesville Volunteer Fire Department welcome you to our website.
We are proud to announce and honor several long-time members of the Department and the Auxiliary.

Walt Fisher and Richard Berger are celebrating 2 huge milestones of their firefighting careers. Walt is in his 60th year of serving the community and Dick is in his 50th year.

Helen Cantlin is in her 60th year as a member of the Auxiliary.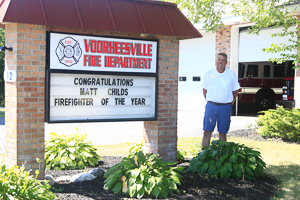 Our Firefighter of the Year for 2020 -
Matt Childs - next to his sign
The Voorheesville Volunteer Fire Department was established in 1902. It is a 100% volunteer staffed organization providing fire suppression, emergency response, fire prevention and educational services to the denizens of the Village of Voorheesville, N.Y. The department's protective district encompasses one square mile within the village limits. The village is located approximately 15 miles southwest of the capital city of Albany N.Y. and is governed by the laws and regulations of the New York State Division of Homeland Security and Emergency Services.
The department operates out of one fire station, in the village of Voorheesville. We have partnered with the following departments to provide and receive mutual aid response on an as-needed basis: New Salem Fire Department, Slingerlands Fire Department, Altamont FD and Guilderland Center Fire Department. Additionally, we receive HazMat Emergency Response mutual aid from the Albany County HazMat Response Team. The department responds to an average of 60 fire emergency calls per year.
We are always recruiting new members. Please visit the Membership page for more information.
From the New York State Department of Environmental Conservation: As of October 15, 2009, there is a ban on the open burning of residential waste in NYS. The law does include exceptions for small campfires, cooking fires, ceremonial fires and certain types of agricultural waste burning. For more information from the DEC, click here.
We can't help you if we can't find you. Please make sure that your house number is visible from the street.
If you have young children at home and would like to have emergency "Tot-Finder" decals to mark their bedrooms to aid in locating and rescuing them in the event of a fire, please stop by the firehouse any Tuesday evening (7-9pm) during our weekly drills and pick up a couple.
Dial 911 for all fire and emergency calls.
Voorheesville Fire Department Non-Emergency Telephone (this landline is not regularly staffed)

518-765-4048

12 Altamont Rd.
Voorheesville, NY 12186