History of the Voorheesville Volunteer Fire Department
In April of 1902, the Board of Trustees of the Village of Voorheesville met and formed a fire company charged with the protection of all inhabitants and businesses within the confines of the Village. Company officers were elected, by-laws were written and members were recruited.
Our first 'motorized' apparatus - a 1927 Childs - which we still drive in parades!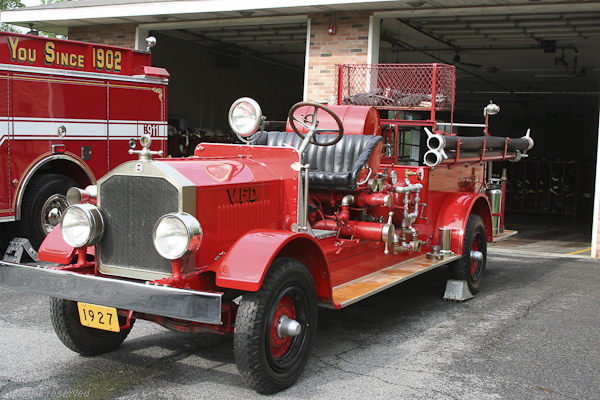 In 1905 the Voorheesville Volunteer Fire Department battled its first fire as a unified department. The department purchased the first firehouse in December of 1910, although regular meetings were held in the I.O.O.F. Hall, as the new firehouse was unheated. The department purchased a triple combination 500 gallon pumper from American LaFrance Co. in 1921. Ten years later the VFD Fire Police and the Ladies Auxiliary were formed. Nearly two decades later, the department added another piece of apparatus, a Mack closed-cab fire truck for the price of $15,200.00. Another Mack truck was purchased in 1966.
The original approved number of members was increased from 30 members to 50 in May of 1955 and the department relocated to its current location on Altamont Road a decade later and the building was dedicated in November of 1967. Later that year the village trustees approved an increase of the membership limit to its current level of 60.
The department continued to modernize its equipment and apparatus with the installation of a new radio service, two new Hahn pumpers and the celebration of 100 years of service in 2002. The Department amended its by-laws to establish a new Junior membership program and welcomed the first Junior firefighters in 2001.
Organized with 30 men in 1902, the Voorheesville Fire Department now has a diverse complement of 60 volunteer firefighters supported by the Voorheesville Fire Department Auxiliary. The department responds to an average of 60 non-EMS emergency incidents a year. The Voorheesville Village Ambulance Squad responds to all requests for emergency medical response.