Recently, the VFD hosted its annual Harvest Dance donating all proceeds to the American
Cancer Society for Breast Cancer Research. This photo was taken in appreciation of,
and in conjunction with our check presentation to the ACS in the amount of $1104.
The VFD would like to thank Ms. Hilary Wetzel of the ACS and all of our local businesses
that supported this event.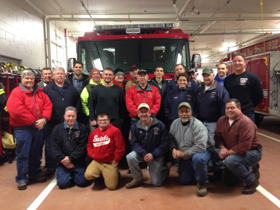 (Click image to enlarge)